American Airlines Employee Saves 2 Teenage Girls From Human Trafficking Plot
February 19, 2018

American Airlines says one of its quick-thinking employees helped thwart an alleged human trafficker's plan to lure two teenage girls to New York.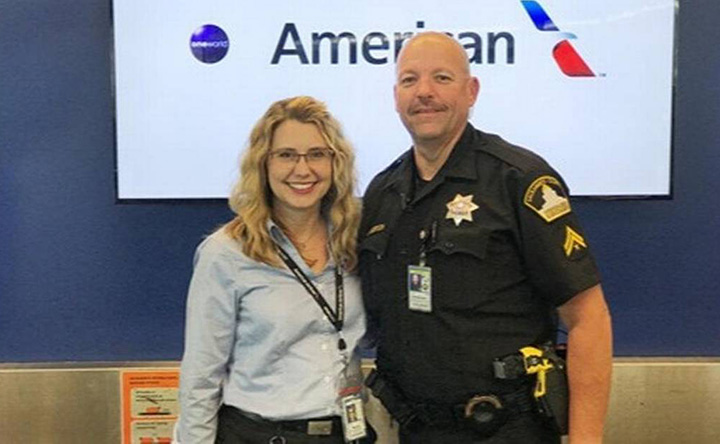 Denise Miracle with Todd Sanderson / Credit: ABC NEws

The two girls, ages 15 and 17, claimed a man had bought them tickets to New York to model and dance in music videos.

American Airlines employee Denice Miracle became concerned when the two girls approached the ticket counter at Sacramento International Airport.

The girls had no identification, were traveling alone with just two small bags, and had two first-class tickets. Miracle became particularly alarmed because the girls had one-way tickets.

"Between the two of them, they had a bunch of small bags. It seemed to me as if they were running away from home," Miracle said. "They kept looking at each other in a way that seemed fearful and anxious. I had a gut feeling that something just wasn't right."

Miracle refused to allow the girls to board their plane and alerted the police.

The girls told authorities that a man they met on Instagram named "Drey" had bought their tickets and offered them $2,000 to fly to New York for the weekend to model.

The girls had not told their parents about the trip and told them they were spending the night at the other's home.

They were shocked to learn their tickets were one-way.

"When I told them that they didn't have a flight home, that's when it kind of sunk in that maybe I was actually telling the truth," Deputy Todd Sanderson said.

"In my opinion, what was going to happen was they were going to go back to New York and become victims of sex trafficking. They said they wouldn't have let that happen, and I said they probably wouldn't have had a choice."

Sanderson praised Miracle for her actions and said she possibly saved their lives.

By the time authorities found "Drey" on Instagram, it was too late.

"We attempted to look him up on Instagram. Just a few minutes after our contact with him, he erased all of his profiles on social media," Sanderson said.

Deputies said when they notified the girls' parents, they were in shock. They hope the story is a good lesson for parents to make sure they are keeping a close eye on their children's social media accounts.
Please consider
making a donation
to
Sunny Skyz
and help our mission to make the world a better place.