Church Eliminates Over $10 Million In Medical Debt For Local Families
April 6, 2018

During their Easter service on April 1, 2018, Pastor Stephen Hayes of Covenant Church in Carrollton, Texas, revealed that the congregation eliminated medical debt for more than 4,000 local families and veterans.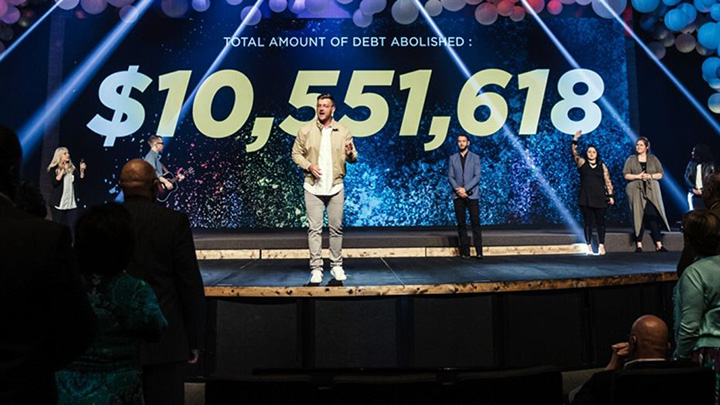 Credit: Covenant Church

When he was a teenager, Hayes spent 12 days in intensive care after he was struck by a car and fell into a coma. At the time, his family was aided in paying off the medical bills with the help of his church.

Hayes, now 34, wanted do the same for others.

The megachurch usually spends around $100,000 each year to promote their Easter services. This year, they decided to take that money and spend it differently.

Hayes teamed up with RIP Medical Debt, a nonprofit group that acquires unpaid medical debt at greatly reduced rates and then forgives it. Every $1 donated to the group translates to $100 in debt paid off.

The Covenant Church donated $100,000 which helped pay off a total of $10,551,618 in medical debt for 4,229 families in the Dallas area.

"Not only is the debt itself gone and paid, but also, any negative impact that debt has had on their credit history is wiped clean," Hayes told The Stream. "It's the easiest decision we've ever made."

After the reveal of the total amount of debt abolished, Hayes reminded his congregation that they, too, have received similar letters, referencing to John 19:30 when Jesus said, 'It is finished.'

"That's your letter in the mail," Hayes preached. "If you can imagine what those people this week will be feeling when they receive the letter that you sent them saying their debt is paid. I prayed 100-fold that [is how] you would feel in the reading the letter He wrote to you in the book of John 19:30. Hey, your debt of sin is paid. You are covered."
Please consider
making a donation
to
Sunny Skyz
and help our mission to make the world a better place.