Hundreds Gather To Give Tear-Filled Goodbye To Hero Military Dog
July 29, 2017

A 10-year-old black labrador named Cena was given a hero's farewell before he was put to sleep after being diagnosed with bone cancer.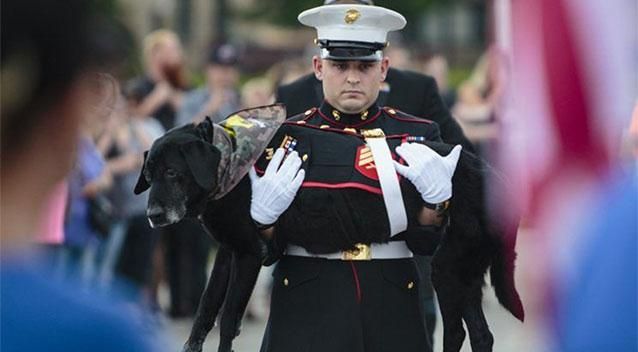 Cena, who worked as a bomb sniffer for the Marines, was given a military funeral in Michigan just days after his owner Lance Corporal Jeff DeYoung completed a bucket list for his beloved pet.

DeYoung said he had carried Cena across rivers and threw his body over him while under heavy fire from the Taliban.

After their retirement, DeYoung adopted Cena who helped him deal with his post-traumatic stress disorder.

"My whole adult life I've had Cena," DeYoung said. "When I was 19 overseas learning how to be responsible, I had Cena. "And now I'm 27 and I'm having to say goodbye to one of the biggest pieces of my life."

Watch the video below.