Husky Rescues Woman Who Injured Herself While Hiking Alone In Alaska
June 24, 2018

A husky is being credited with helping rescue a hiker who injured herself along the Crow Creek Trail in Chugach State Park, Alaska.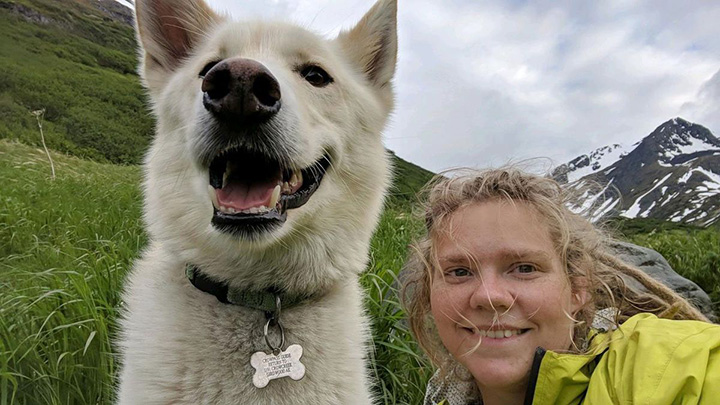 Nanook with Amelia Milling / Credit: Amelia Milling

"He's Alaska's version of Lassie," said Lt. Eric Olsen with the Alaska State Troopers.

According to Olsen, a helicopter was dispatched after the agency received a report that an emergency locator beacon had been activated near Eagle River along the Crow Pass Trail. When Olsen arrived, he saw a sleeping bag alongside the river accompanied by a white dog.

Inside the sleeping bag was 21-year-old Amelia Milling, who troopers say was wet, dazed and scraped up. The hearing-impaired woman then recounted her harrowing tale to troopers by writing in a notebook.

Olsen said Milling told them that, after sustaining injuries a day earlier, she had fallen while trying to cross Eagle River. That was when Nanook sprang into action, helping pull her from the glacier-fed river.

"She slipped and fell, and the dog was able to save her and get her back to shore," Olsen said.

Milling said she set out Monday afternoon for a planned three-day hike. Things were fine until she reached the pass, where she encountered more snow than she expected.

"I'm a Southerner, so I wasn't thinking about snow," Milling told Anchorage Daily News.

She camped out and on Tuesday morning attempted to descend into the Eagle River Valley. But she lost her trekking poles, and as she tried to glissade down a long snow slope, she hit a rock that launched her into the air.

"I felt like I was flying," she said.

When she landed — sliding another 200 to 300 feet in the snow — she was banged up and in shock. That's when the dog arrived, seemingly out of nowhere.

"My first response was, where's the owner?" she said. "Then I saw the collar and it said (the dog) was a Crow Pass guide, and I realized that he was there to help me."

Milling said she followed Nanook back to the trail and credited the dog for helping her find her way. The duo camped overnight and in the morning the dog was still there.

The pair walked to the ford site across Eagle River, but Milling said she struggled with the swift, cold water and tried to find a better place to cross.

That proved to be a mistake, as the spot she chose was too deep. She fell, grabbing her unbuckled backpack as she floated in the river. Milling said she struggled to return to shore, with Nanook jumping in to grab her pack and help her out of the freezing water.

At that point, she was wet and cold, so she got into her sleeping bag and tried to warm up. After a couple hours, she realized she was in too big a predicament to get out on her own.

Nanook was licking her face as she pushed the emergency locator and waited for help to arrive.

At first, troopers thought Nanook belonged to her when they found the pair alongside the river. But when they looked at his tags, they learned the dog actually belonged to Scott Swift, who lives at the end of Crow Creek Road.

Swift said Nanook frequently embarks on treks into the Chugach, where he'll accompany hikers all the way to the nature center.

"This is the second time I've heard of he has saved someone from drowning in that river," he said.

Swift said "Nookie" — whom he adopted about six years ago — has no search-and-rescue training.

"He just does it on his own," Swift said.

As for Milling, she has some bruises but is otherwise okay. She thinks Nanook was instrumental in keeping her alive while on the trail, and she'll always have a special bond with him.

"I believe the dog is a guardian angel," she said.

"I told him several times that I love him and I'll never forget him."
Please consider
making a donation
to
Sunny Skyz
and help our mission to make the world a better place.