Irish Firefighters Save Woman By Her Fingertips In River Rescue
April 11, 2018

A group of heroic firefighters dove into the cold dark water of the River Shannon in Limerick, Ireland, and saved a woman from drowning.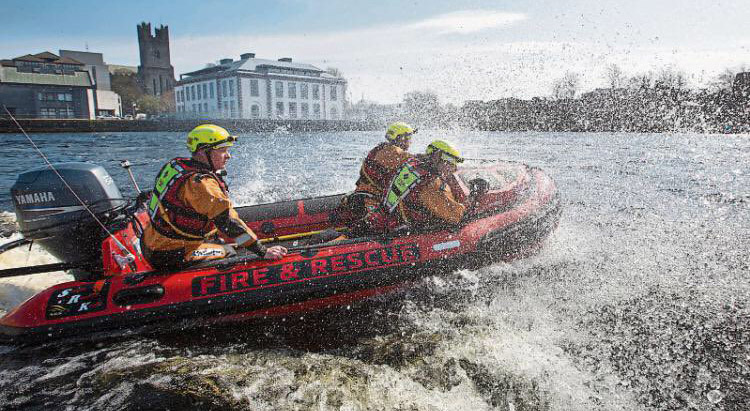 Credit: Limerick Fire / Twitter

Peter Murphy said he and fellow fireman, Des Fitzgerald, literally saved the woman by her "fingertips" after she disappeared under the water's surface in the early hours of the morning.

Seconds after the woman went under, Murphy and Fitzgerald, supported by their colleague Colin Gleeson, jumped out of their rapid response river rescue boat into the cold dark river shortly after responding to the 4:30 am alert from their firehouse.

"As we approached the casualty, myself, Des and Colin, saw she had gone sub-surface, so it left us with no option really but for two of us to enter the water. It was literally a fingertip save," Murphy told The Journal.

Murphy said this rescue was different than most water rescues.

"One of the rules is that, you don't enter the water if you have the boat, but, at the time, situation dictates, and you have to do your own risk assessment, and see what's best for the casualty to try and get them back," Murphy explained.

"Conditions were poor, and it was pitch black. It was 4:30 in the morning, and the tide was ripping, so you had a desperate flow going out. Visibility was very, very poor."

Shrugging off the tag of being a "hero", Murphy said rescuing people is what he and his colleagues do on a regular basis.

"It's brilliant when we save someone. Everyone plays a part, whether it's the control centre, or any member of the crew. It's something we are training for everyday. It's something we love, and that's why we joined the service."
Please consider
making a donation
to
Sunny Skyz
and help our mission to make the world a better place.