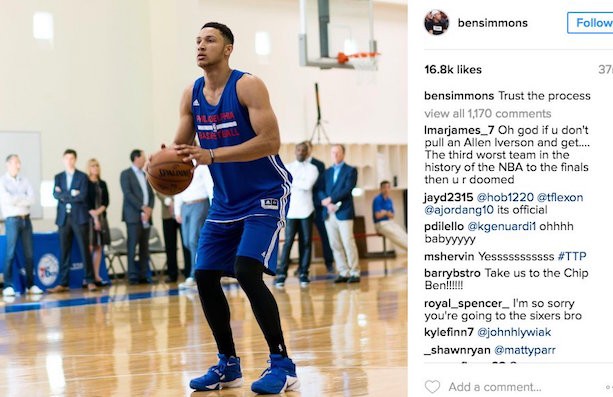 All the losing. All the embarrassment. All of the criticism that the Philadelphia 76ers franchise has taken over the last several years for their "tanking" and their series of failed first-round draft picks could all be relinquished and make it seem worth it if the franchise were to finally be able to get their missing piece in this year's draft. As first reported by Cleveland.com and confirmed by ESPN, the Philadelphia 76ers have made their decision, and that is to draft LSU forward Ben Simmons with the No. 1 overall pick. The Sixers reportedly notified Simmons on Tuesday that he will be their No. 1 selection when the draft kicks off at the Barclays Center in Brooklyn on Thursday night.
Shortly after the news broke that the 76ers would be selecting him with the No. 1 overall pick, Simmons posted an Instagram photo of himself working out in a 76ers practice jersey with the caption "Trust the process."
Trust the process
A photo posted by Ben Simmons (@bensimmons) on Jun 21, 2016 at 9:58am PDT
The decision to draft Ben Simmons No. 1 overall is one that may not seem all that surprising to fans around the NBA, but it is certainly the one that makes the most sense if you are the Philadelphia 76ers. Simmons's massive '6″10, 240-pound frame and versatility will allow the 76ers the freedom to play him almost anywhere they desire and build a team around him with players that fit their system, something they have not been able to do with Joel Embid (due to injury), Nerlens Noel, or Jahlil Okafor.
Along with the No. 1 overall pick, the 76ers also possess the No. 24 and No. 26 overall picks, which could be packaged into a possible trade to try and move up and select a point guard to give Ben Simmons some help such as a Buddy Hield (Oklahoma), Kris Dunn (Providence), Tyler Ulis (Kentucky), or Yogi Ferrell (Indiana). If the 76ers can find a buyer, they should absolutely take advantage and try to move up in order to draft a solid ball handler that they can mold into their system, feed the ball to Ben Simmons, and shoot the three ball. However, do not be surprised if the 76ers decide to hold off on trading up for one of the top point guards in this year's draft class and snag a point guard such as Demetrius Jackson (Notre Dame), Fred VanVleet (Wichita State), or Gary Payton II (Oregon State) to try and give them stability on both ends of the floor.
Devin Booker and close friends Karl-Anthony Towns and D'Angelo Russell are in a commercial with Ben Simmons. https://t.co/IhbkghXGgF
— Paul Coro (@paulcoro) June 21, 2016
The biggest knock on Ben Simmons's game is his shooting, as he only attempted three shots from beyond the three-point line in his lone season at LSU (made one). In today's day and age in the NBA, you need to have a team that can shoot from beyond the arc if you want to see any success a la the Golden State Warriors and Cleveland Cavaliers. The 76ers certainly do not possess that stud from beyond the arc when you look at their roster and drafting Ben Simmons obviously will not help improve their team's three-point percentage. However, give Simmons some time to develop into a better shooter and also consider the strong possibility that Philly opts to move either Joel Embid or Jahlil Okafor for a shooter and you now have some potential for the Philadelphia 76ers to finally develop into a complete team.