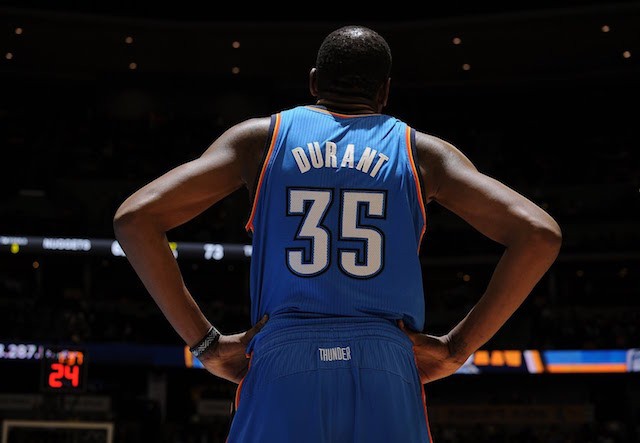 According to ESPN, the Golden State Warriors are reportedly going to be 'very aggressive' in their attempts to try and lure due-to-be free agent star Kevin Durant to the Bay Area during this offseason's free agency period. In reference to the upcoming free agency period that begins on July 1st, Warriors owner Joe Lacob stated: "All I can say is that I will be very aggressive" before leaving Oracle Arena on Sunday night. Also according to ESPN, the Warriors and San Antonio Spurs are two of the teams on the short list that are expected to receive a face-to-face meeting with Durant this offseason once free agency begins.
It begins: Kevin Durant reportedly favors the Warriors if he doesn't re-sign with OKChttps://t.co/MYepDcnRSc pic.twitter.com/vG0skdt06T
— Bleacher Report (@BleacherReport) June 21, 2016
The Warriors and Spurs have widely been regarded as the two biggest threats to lure the 2014 MVP away from Oklahoma City along with other possible landing spots, and for good reason. The Spurs and Warriors are already the class of the Western Conference, and the addition of a star player such as Kevin Durant would make either Golden State or San Antonio the immediate favorite to win the next several NBA Finals (assuming Golden State re-signs Steph Curry next offseason and San Antonio can stay healthy). In early June, ESPN reported that the most likely scenario for Kevin Durant was him returning to Oklahoma City on a two-year contract with a player option to return to free agency next offseason alongside teammate, Russell Westbrook. Now, however, it appears that the Golden State Warriors are going to try their best to stack up their roster for both the present and the future and attempt to break up the duo of KD and Westbrook.
The Warriors, who lost in seven games to the Cleveland Cavaliers in the NBA Finals on Sunday evening despite holding a 3-1 series lead, still have the core of their team under contract for next season in Steph Curry (one year remaining on four-year deal), Klay Thompson (three years remaining on four-year deal) and Draymond Green (four years remaining on five-year deal). The biggest piece of Golden State's starting lineup that could be playing elsewhere in 2016-2017 is strong forward Harrison Barnes, who is a due-to-be restricted free agent. While Barnes certainly has been a valuable piece to the Warriors over the last several seasons, Joe Lacob and head coach Steve Kerr certainly wouldn't mind sacrificing a player like Harrison Barnes to free agency if it means that they can land a stud like Kevin Durant.
The only issue with the idea of Kevin Durant going to the Warriors is the almost guarantee that he would be signing a max deal (each team limited to two under NBA rules). If the Warriors want to re-sign Steph Curry at the end of next season (they almost certainly want to) they will have to reach into their wallets and give Curry a max deal as well. With the strong possibility of both Curry and Durant being locked down to long-term max contracts, the Warriors would be putting all of their eggs into one basket and taking a big risk. While the possible rewards of having Kevin Durant and Steph Curry on the same team certainly outweigh any possible consequences, a knee injury to either of the two or both would almost certainly doom the Golden State Warriors in both the present and the future, as their ability to attract a big name free agent would be thrown out the window (prime example: Derrick Rose and the Chicago Bulls). The Golden State Warriors already possess a lineup that holds the ability to be a championship-caliber team and one that is the greatest regular season team in the history of the NBA after their incredible 73-9 record in 2015-2016. The talent is already there for this team to be a force in the Western Conference for years to come, so it may be wise for the Warriors to hold off on Kevin Durant, stick with their guns, and allow themselves to have some financial wiggle room in case things don't end up panning out with Klay Thompson or Draymond Green in the long run.
No matter where Kevin Durant chooses to play his home games next season, get ready for a pretty wild NBA offseason with KD, Dwayne Wade, Al Horford, DeMar DeRozan, and Rajon Rondo all having huge decisions to make.