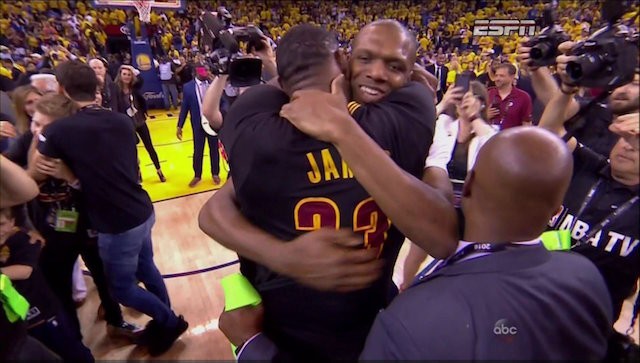 52 years. That is how long it for the city of Cleveland to win a major professional sports championship. The Cleveland Cavaliers not only broke the city's prolonged and painful championship drought with a 93-89 victory over the Golden State Warriors in game seven on Sunday night, but they became the first NBA team to ever come from 1-3 down in the Finals and win it. LeBron James, who we all know departed Cleveland for Miami in 2010 and left the city in heartbreak, stayed true to his word as the King has returned Northeast Ohio to a winning tradition.
Let the celebration begin! Stay safe and enjoy this moment, Cleveland. #OneForTheLand pic.twitter.com/SB0PedktIA

— Cleveland Cavaliers (@cavs) June 20, 2016
LeBron James may have won the honor of Finals MVP, and Kyrie Irving may have finally been able to stay healthy and deliver in the clutch for the Cavaliers, but the real winner in this story is the city of Cleveland. For 52 years, Cleveland's sports teams (Indians, Browns, and Cavaliers) have suffered an almost endless number of excruciatingly painful losses and have put their fans through a hellish pain that no other fan in any other city in the United States can say they've honestly come close to experiencing. Now, that pain has finally been lifted.
Cleveland championship drought is over because of this shot https://t.co/NqhcHanOGz #NBAFinals

— TooAthletic.com (@TooAthletic) June 20, 2016
All four of the major professional sports in the United States (NFL, NBA, NHL, MLB) each has their fair share of legendary stories and championship runs. The 2004 Boston Red Sox breaking the curse of the Bambino, the New York Rangers hoisting Lord Stanley's Cup for the first time in 54 years in 1994, and the Miami Dolphins going undefeated in 1972 are easily three of, if not the best, stories in American sports history. On Sunday night, America, the sports world, and the city of Cleveland were all able to add one more story to that list with this more than impressive run by King James and the Cavs.
This is GENERATIONS of Celebration right here Cleveland can finally rest easy https://t.co/psXyc5EUaS

— Shake4ndbake (@Shake4ndBake) June 20, 2016
Think about it, is there any better way for the city of Cleveland to get the championship monkey off of their back than by the Cavaliers coming from 0-2 and 1-3 down against unarguably the greatest regular season team in NBA history (stats don't lie) and defending champion Golden State Warriors? Kyrie Irving hitting the most clutch three-point of shot of his entire career with 50 seconds remaining to give the Cavs the lead? LeBron knocking down a free throw to seal it when it looked like he broke his wrist while driving to the basket? You can't write this stuff, and surely, nobody in Cleveland could have thought that such a dream run by the Cavs was possible after their team got thoroughly outplayed during the first two games or the series at Oracle. It's the perfect story. As Spike Lee once said, this is why sports are the greatest entertainment there is. There are no scripts unless of course, you ask Ayesha Curry (come on, you knew there had to be one "rigged" reference) and the pressure that takes place on the gridiron, court, diamond, or ice in championship moments always makes for incredible drama. 
For once, the people of Cleveland will go to bed happy (and likely insanely intoxicated). It must be a surreal feeling for the people of Cleveland and for the members and management of the Cleveland Cavaliers to finally have the weight lifted off of them. Christmas has come early in Northeast Ohio. Good for Cleveland and good for LeBron James. They deserve it. 
**Sidenote**
The ESPY's this summer should be fun. "And the award for best team goes to: The Golden State War… oh never mind." 
2001 Mariners, 2007 Patriots, 2015-2016 Golden State Warriors. Great regular season teams, not championship teams. Good for Cleveland

— Mike Flanagan (@fLAno0) June 20, 2016