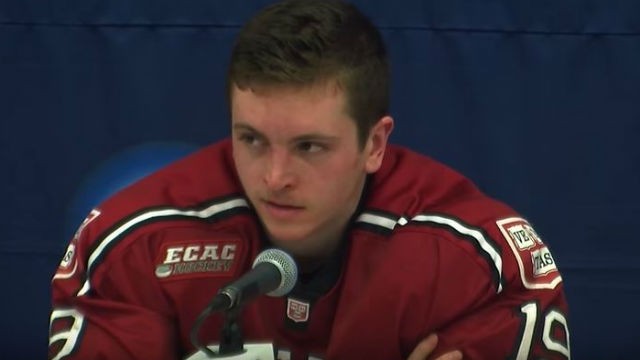 The annual last-minute trade frenzy before the NHL Draft and offseason free agency period begins has gotten off to a pretty hot start. As reported by TSN, the Nashville Predators traded the rights to 2016 Hobey Baker-winner, Jimmy Vesey, to the Buffalo Sabres on Monday for Buffalo's third-round pick in the 2016 NHL Draft.  
TRADE ALERT: Sabres acquire rights to forward Jimmy Vesey from @PredsNHL for a 3rd rd. pick. https://t.co/Wg7wZshe7H pic.twitter.com/bq0WaX1xwl

— Buffalo Sabres (@BuffaloSabres) June 20, 2016
Those who have been following the Jimmy Vesey story or are fans of the Nashville Predators know that this entire situation has become one colossal mess ever since Vesey decided to leave Nashville at the altar back in March. Vesey, who was drafted No. 66 overall by the Preds in 2012, turned down a contract offer from Nashville just days after his senior season at Harvard ended in a 4-1 loss in the Northeast Regional Semifinals to Boston College. The Predators offered Vesey an immediate spot on their top two lines and Vesey would have been able to participate in the 2016 Stanley Cup Playoffs (where Nashville lost to San Jose in seven games in round two) had he decided to hop on board ship in the Music City. In what appears to be a sour-spited move by the Predators for Vesey's unwillingness to hop on board this past March, Vesey's rights have been dealt to Buffalo, a franchise that is in the midst of a massive rebuild but does hold a lot of future promise in 2015 Hobey Baker winner and No. 2 overall pick Jack Eichel, 2014 No. 2 overall pick Sam Reinhart, and 2016 NHL AllStar Ryan O'Reilly.
Even though Vesey's rights are now owned by the Sabres, the 2015 Hobey Baker winner has the ability to jump ship if he wants to, as he becomes an unrestricted free agent on August 15th and will be free to sign with any team he desires. There have already been multiple rumors and reports that Vesey, a native of North Reading, Massachusetts, is going to sign with his hometown Boston Bruins on August 15th, but now, it looks like the Sabres are going to have the first crack at offering Vesey a comfortable contract after acquiring his rights from Nashville. The ability to play for a team with so much future promise like the Buffalo Sabres definitely has to be rather appealing for Jimmy Vesey, especially when you consider the fact that the Sabres seem to be on the rise all while Boston has dramatically regressed the last two seasons (missed postseason two consecutive years). Nevertheless, it would be the least bit surprising if Jimmy Vesey opted to sign with the team he grew up rooting for and live his childhood dream of playing at TD Garden in a black and gold sweater.
praying the Bruins are able to land this kid https://t.co/IxaLO0DNGd

— Mike Flanagan (@fLAno0) June 20, 2016
The addition of Jimmy Vesey to the Buffalo Sabres obviously would not make them an immediate Cup contender, but it would give this franchise a lot to look forward to in the future. We will now be forced to wait and see if Jack Eichel and the Sabres can convince Vesey to play his home games in upstate New York rather than return home and try to help save the Bruins, who are currently dangling off of the cliffs of relevance.