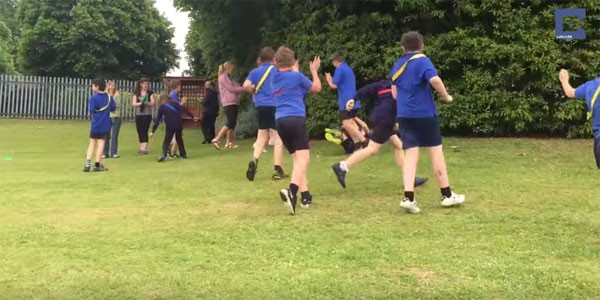 A group of boys from Lincolnshire, England, made their parents proud after helping a classmate with Down Syndrome win a field day race last week at Wrawby St. Mary's C of E Primary School.
A video shows Rory Kettles, 11, who has Down Syndrome, sprinting to the finish line as his classmates link arms behind him to come together in second place.
Michelle Drury, a mother of one of the boys, told 9 News that the kids came up with the race idea themselves.
She explained, "I'm unbelievably proud of what Rio and the boys did. Being their last sports day they decided they wanted their friend Rory to remember his last running race by coming first.
"They all slowed down, put their arms round each other and ran together to make sure they came joint second."
Prior to the event the children asked permission to let Rory win, according to head teacher Mariclare Potterton.
Parents and other spectators were so touched by the gesture that many were driven to tears.